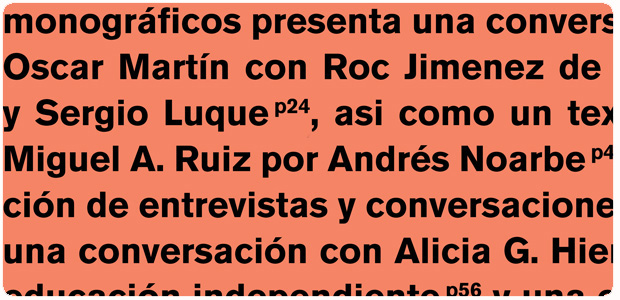 TEXTO (PDF)
CD 1 (ZIP)
CD 2 (ZIP)
Online Release (ZIP)
Artículos
Regímenes aurales, por Mikel R. Nieto
¿Qué escucha una rana? FonoZoo, con Diego Llusia
Monográficos
Roc Jiménez de Cisneros y Sergio Luque en conversación con Oscar Martín
Miguel A. Ruiz, por Andrés Noarbe
Entrevistas y conversaciones
Conversación con Alicia G. Grueso sobre educación independiente
Entrevista Atomizador, por Antipatía Zine
Manifiestos y presentaciones
Manifiesto Arika
El Acceso Universal a la Información, por Miquel Parera Jaqués
Carta con Anne-f Jacques de Crustacés Tapes
Reseñas:
Audio Leaden Sieves – Coeval – Cuculacanto – Xedh & Carlos Suarez – Per Fly EP – Oriol Rosell – The Fragility of Emotions – Rene Muñoz Cordova – Concierto ZAJ para 30 o 60 voces (1980) Esther Ferrer Otros formatos Mapa Sonoro de Elche Jose Maria Pastor – Monographic Dallas Simpson – Insibili Tricee. Orgonomy zine #3 Leonardo Amico
Libros y textos Site of Sound #2 Architecture and the Ear – Brandon Labelle & Claudia, Martinho (Ed.) – Parole #2: Phonetic Skin / Phonetische Haut Annette tahmer (Ed.) – MP3: The Meaning of a Format Jonathan Sterne – Ars Sonora. Una experiencia del arte sonoro en radio. 25 años Jose Iges (Ed.) – Contribución a la guerra en curso Deleuze / Tiqqun – El Camino del Hardcore Goodiepal – Unconstituted Praxis – MattiN
Encuentros /conciertos / festivales Ertz #13 – Zarata Fest 2012 – SIN JAULAS Bestiario — Jornadas y encuentros de improvisadores
CDR1
Split Sergio Luque / EVOL
CDR2
Miguel A. Ruiz. Orfeón Gagarin
Online Release
Diego Llusia, grabaciones Parque Santa Cruz, Coimbra.
Diseño y maquetación: Ariadna Serrahima, Diego Bustamante, todojunto.net
Corrección: Sarah Vacher
Traducción: Blanca Rego y Arantxa Catalán Altuna
Ilustraciones para CD y online release: Agnès Pe.
Colaboran: Mikel R. Nieto, Roc Jiménez de Cisneros, Sergio Luque, Andrés Noarbe, Alicia G. Hierro, Antipatía Zine,Mattin, Anne-f Jacques, Miquel Parera Jaqués, Héctor Rey, Edu Comelles, Juanjo Palacios, Miguel Angel Tolosa, anhh, Abraham Rivera, Miguel A. Ruiz, Diego Lluisa, Olga Abalos, Lali Barrière, Alejandro Rojas Marcos, Chema Chacón, Ruth Barberan, Wade Matthews, Luis Tabuenca, Alfredo Costa Monteiro, Pablo Putearte, NGWBPATM, Arika, Glasgow Open School.
Coordinación: Oscar Martín y José Luis Espejo